People confuse early learning with daycare or babysitting. Early learning is so much more than that. Early learning or early education- these are terms that are used to describe programs that provide education for children outside their own home before kindergarten. We know that children are actively learning wherever they are–at home, in early learning programs, and communities. Parents are undeniably children's first and most important teachers, but young children need meaningful learning opportunities to develop skills, sense of self and a foundation for learning throughout life. Children who participate in early learning programs develop a love for learning, and families benefit too!
Children who attend high quality early learning programs develop competencies in:


Healthy eating and wellness habits
Fine and gross motor development
Self-help/self-regulation
Creative expression through the arts
Planning and reflection
Eagerness/curiosity for learning
Persistence
Social skills with peers and adults
Greater identity of who they are
They also gain other essential skills such as:



Listening and understanding
Increased vocabulary
Speaking in sentences/conversation
Emergent writing
Mathematical thinking, counting and measuring
Scientific thinking and inquiry
Understanding of people, places and environments
Early literacy
Problem solving
Of the most popular early learning opportunities, the following is a quick comparison of 3 approaches, Reggio Emilia, Montessori and the Waldorf.
Early learning comparison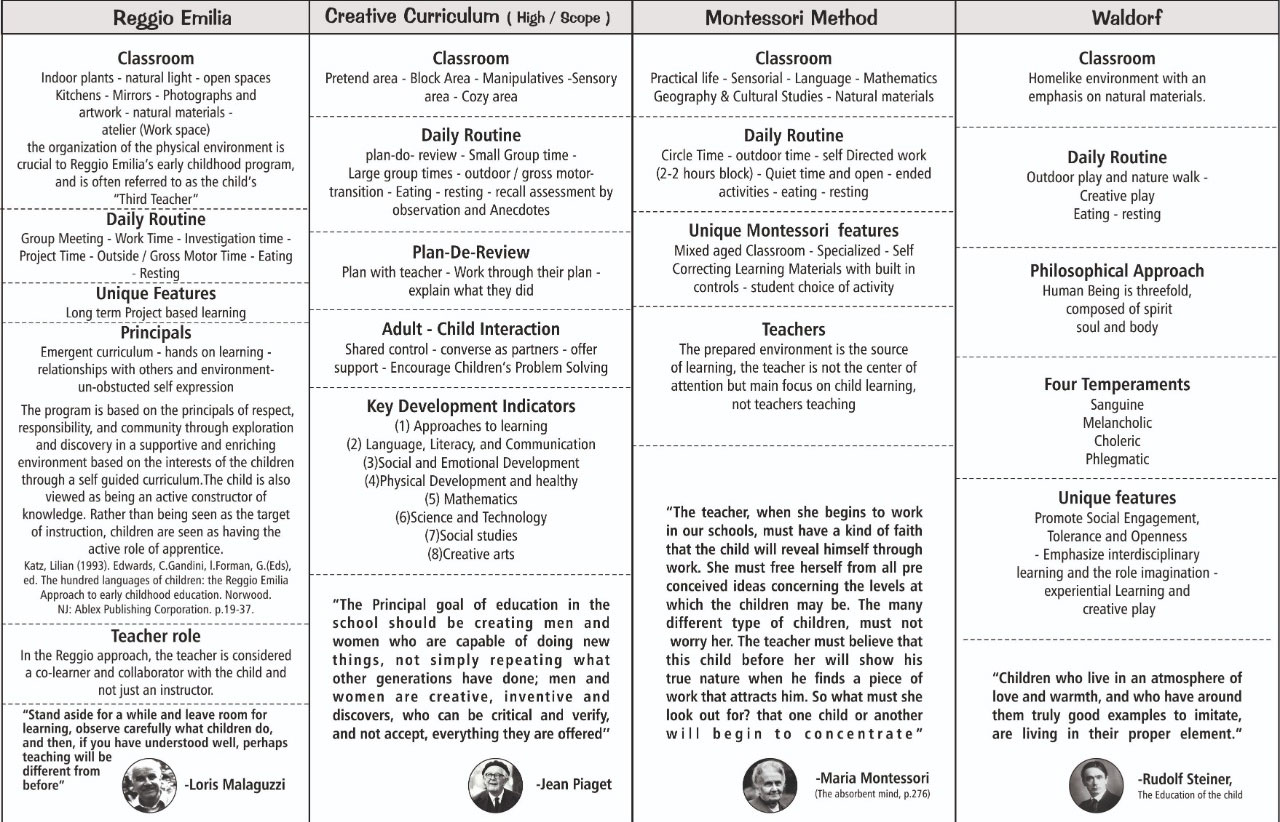 Is Reggio Emilia approach right for your child?
1) Are you a parent that likes to be involved.
Reggio Emilia prides itself on being very involved with families and integrating their knowledge and home life into the curriculum that is being taught.
2) Is your child a critical thinker?
This is so very important! Do you have a child that is constantly questioning life's big wonderings? "Why is the sky blue?"
"Why are the animals in the cage at the zoo?"
3) Does your child like exploration, exploring things with who? Why? Where? What?
4) Does your child appreciate the small things in life?
5) A pebble picked up from a walk? Play outdoor? Making shapes out of leaves, sticks?