CREATIVE CURRICULUM
The Creative Curriculum is a comprehensive educational program for children up to 5 years.
It combines the latest research and the freshest ideas into a forward-thinking constructivist approach to exciting and relevant learning that fosters creativity.
We take pride in introducing Reggio Emilia Approach which ascertains that children have "infinite ways to express, explore, and connect their thoughts, feelings, and imaginings." And expressive art being the vocabulary of these languages, it becomes an essential and affirmatory everyday mode of self-discovery and communication in our classrooms. It helps us help each child find and explore their unique path to self-fulfillment and discovery. As the maximum extent of brain development happens during this age, we consider it prime to impart knowledge in their daily activities.
Our Kids, teachers and parents work together.
We create projects that use the Environment, Community
Every curriculum is customized based on the age and needs of your child. We accept children between the ages of 1.6 years and 5.5 years.
Every child is categorized according to age into the following groups.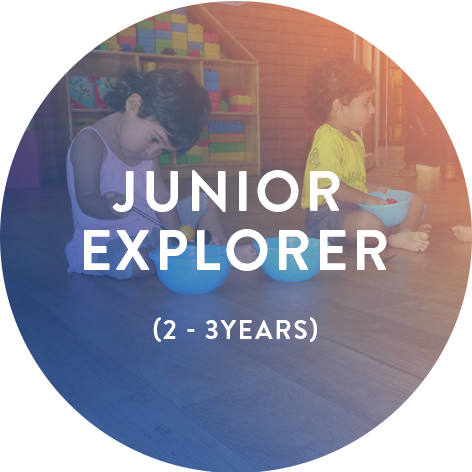 The first stage towards letting the toddler enjoy his/her freedom to explore and express.
Children in our Junior Explorers program will learn in an enthusiastic and exciting environment that would nurture their love for learning. Child-centred learning is at the heart of everything we do. Curious, imaginative, and observant are the prime characteristics of the toddlers in this age and our teachers ensure to nurture those through real-time activities, daily. The children will be motivated to enrich their individuality, collaborative skills whilst playing and learning.
The daily activities include quietude, rhyme time, reading stories, soothing music, tummy time with a healthy snack, finger play, movement lessons, and outdoor playtime that will be planned well in advance. The aim is to allow children to communicate with nature and explore the outdoors.
Learning centres with puzzles, blocks, and art supplies, books support imaginary plays, and circle time includes listening to stories, rhymes and songs. This is to stimulate and social skills. Teachers also mentor the children through activities that strengthen gross motor skills and fine motor skills.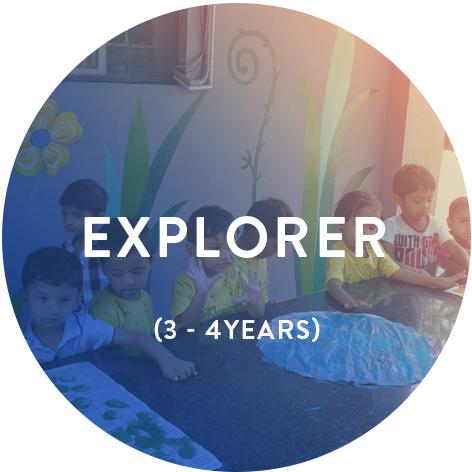 The second step towards a more formalized structure for learning


The Pre-K program emphasizes on the children's kindergarten readiness, social finesse, and conquering gross and motor skills. This is more of a formalized structure that bestows – language, pre-writing, phonics, number play and exploration in the sciences – skills. The children will also be introduced to cognitive skills like sequencing and matching, social skills like recognizing similarities, greeting and interacting, language art skills like sketching and matching letters, circle time skills like storytelling, phonics with action, and writing.
The teachers will be actively involved with the children during their indoor/outdoor playtime so as to teach them different concepts and supporting peer engagements.
The main goal of this curriculum is to provide each child with a sound playtime, opportunities to develop self-thinking and problem-solving skills, observing and cultivating nature-friendly activities whilst also developing a sense of independence, fairness, responsibility, compassion, and respect for self and others.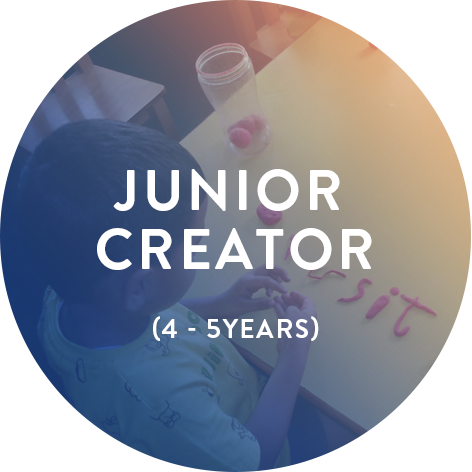 The third step towards developing the most necessitate skills – reading, writing, and playing with numbers
Equivalent to a lower kindergarten, the children would be introduced to reading, writing, and playing with numbers. Environmental studies, experimenting with everyday technology, music lessons, fitness lessons with Yoga and stretches would also add to the necessitate skills in the
Junior Creators program.
Besides traditional literacy, children will also be made to narrate and retell stories, enact, recognize letter sounds, phonological and phonemic awareness. Their circle time would get more engaging with questions and conversations by the teachers.
Children will also be made to recognize left-to-right and top-to-bottom patterns whilst inspiring each other to make a difference through learning, speaking, and writing words that will be used daily. Art rooms will be everywhere to create their own thoughts as and when it would pop up in their mind. In addition, puppet shows, storytelling, quiet reading time, social activities, outdoor and imaginary play time, and consuming yummy nutritious with appropriate table etiquette will complete their daily activities.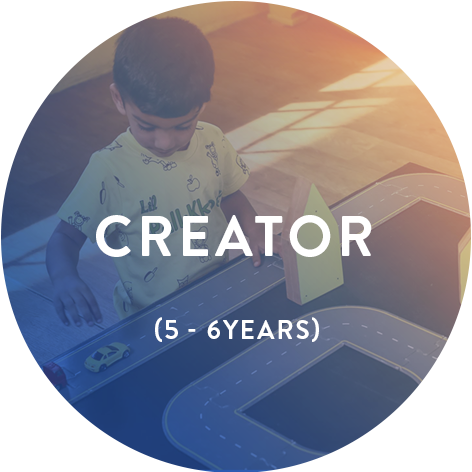 The final step towards preparing for an independent path forward


The curriculum in Creators program is solely project-based and multi-disciplinary. The lessons begin with an inquisitive question so as to cultivate curiosity and trigger them to probe the right questions.
Engaging with three letter words, story reading, creative writing, mental arithmetic calculations, independent research, group reading, quizzing form an essential curriculum in this routine. The children will be made to visit literacy, logical reasoning, and worksheets sections so as to prepare them for the school. The outdoor activities will get vigorous to instil the competition mode. The purpose is to help the children transition from a strong base to a stronger, independent, and a confident schooler. Research says that children are gifted with 'a hundred languages' to articulate their thoughts and ideas. We encourage and instil that attitude in children so they could become their own explorers, communicators, creative thinkers, problem solvers, and risk takers.
Not to miss, a healthy vegetarian midday snack is served everyday. Yoga, music lessons, fitness lessons will also be an integral part of the curricula
LEARNER PROFILE
The learner profile is a group of attributes we instill in all our Lil' Pallikkoodam students, regardless of which campus they attend. Our curriculum systematically incorporates these profiles into the daily lesson plans and requires our facilitators to document how children display these attributes.

Inquisitive

Joyful

Creative

Open Minded

Thoughtful

Empathetic

Moral

Balanced

Knowledge

Inquisitive

Joyful

Creative

Open Minded

Thoughtful

Empathetic

Moral

Balanced

Knowledge
ENRICHMENT PROGRAMS
Enrichment makes something more meaningful, substantial, or rewarding. Enrichment improves something. At Lil' Pallikkoodam, we are enriching young minds by integrating the following services into our curriculum:

Dance

Music

Yoga

Sports
Community Service

Foreign Language